A coalition of 150 women organizations under the aegis of More Women Campaign has called on the Ogun State Governor, Prince Dapo Abiodun, to ensure 35 percent representation of women in his cabinet.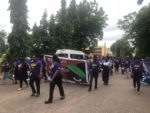 The organization, an initiative of the Women Advocates Research and Documentation Center, said it would lead a solidarity walk to the office of the governor on Thursday (today).
The demand was contained in a letter to the governor and signed by the chairperson, Transition Monitoring Group and co-convener of More Women Campaign, Dr. Abiola Akiyode-Afolabi; the Executive Director, Women for Peace and Gender Equality Initiative, Ms. Mojisola Akinsanya and Executive Director, Partners West Africa – Nigeria, Kemi Okenyodo.
Source:PunchNG